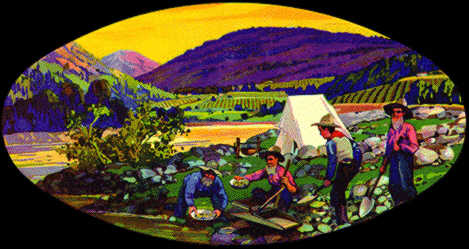 "A Frenzy seized my soul: unbidden my legs performed some entirely new movements of polka steps, I took several....Piles of gold rose before me at every step; castles of marble, dazzling the eye with their rich appliances; thousands of slaves bowing to my beck and call; myriads of fair virgins contending with each other for my love, were among the fancies of my fevered imaginations. The Rothschilds, Girards and Astors appeared to me but poor people; in short, I had a very violent attack of the Gold Fever."

....James H. Carson, Recollections of the California Mines.


Prentice Mulford, an early participant of the California Gold Rush, wrote "The California mining camp was ephemeral. Often it was founded, built up, flourished, decayed, and had weeds and herbage growing over its site and hiding all of man's work inside of ten years." And that was true. Once the gold played out, there was usually no reason for anyone to stay, and the buildings and camps were deserted, left to the elements and the stray ghost or two. But if a mining camp happened to be located on rich gold deposits, or had some reason other than gold to exist, it may have been able to maintain a continuous existence and have survived to this day.


While traveling through the Gold Country during the early 1980's, the idea of writing a book about the Gold Rush mining camps came to me in a vision, almost causing an accident. Intrigued by some old building or half-hidden artifact just passed on the side of the road, I'd often stop the car, get out and wander about the site, wondering what it was, when it was built, who built it, who used it, and so forth. Often there was little or no information available to tell me these things, so I started researching. Ten years later, I finished The California Gold Country: Highway 49 Revisited, and two years later, I was able to publish it. The book itself is basically a photographic history of the places and things left from the days of the California Gold Rush that still exist for visitors to see today. It includes a map, directions to the old sites, 266 up-to-date color photos of the historic sites, and the history of those folks who founded and peopled the towns of the Gold Rush. If you would like further information regarding my book, click here for ordering information.


Now that my book is done, I'm concentrating my efforts on this website, the "Virtual California Gold Country: Highway 49 Revisited." My goal is all-encompassing: History, literature, travel, business, links....if it has to do with the Gold Country or the Gold Rush, I want it here. (Along those lines, if you happen to know of something which should be here but isn't, please email me and let me know.)

The Virtual California Gold Country: Highway 49 Revisited is broken down into five volumes. The jumps below (and/or their corresponding icons on your right) will take you to these volumes, from whence you may peruse many fine chapters of information and links on Gold Country or Gold Rush topics. To return to this page at any time, click on the runaway mine car.

THE CALIFORNIA GOLD COUNTRY: HIGHWAY 49 REVISITED—A descriptive and informational site concerning my Gold Rush History/Mother Lode Tourguide/Coffee Table Picture book of the same title. Available for delivery, in softcover or hardcover versions.
THE GOLD RUSH—This volume details the history of the California Gold Rush from many different viewpoints: first hand accounts, later recollections and memoirs of Gold Rush pioneers, and recent studies of the days of gold from various sources. Also included are contemporary images and literary works, depicting life in the California Gold Mines.
THE GOLD COUNTRY—Included herein are links to various sites about the Gold Country; informational, recreational, and topical. Mining camps with pages on the web, State Parks, Chambers of Commerce, prospecting sites, museums, media, lodging, local events....in short, interesting Gold Country links.
THE VIRTUAL CALIFORNIA GOLD COUNTRY TOURGUIDE—A combination history/travel guide detailing the mining camps located on and about California State Highway 49, concerning their beginnings, the early-day settlers, the miners, the bandits, and the elephant. View vintage photos and illustrations, as well as current images of many surviving historic sites and buildings. Also included for the traveler: Lodging information, local museums, things to do and places to go, broken down by individual Mother Lode towns. If you're planning on taking a trip to the Gold Country, this is the place to start.
THE GOLD RUSH BOOKSTORE—Browse through our selection of Gold Rush and related books of interest available for sale, courtesy of Malakoff & Co.'s Gold Rush Bookstore, an associate of Amazon.com Books.