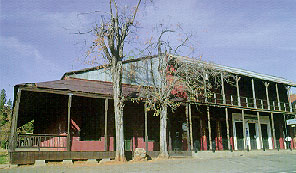 The Large Brick Building

The Large Brick Building located on the town's main street is comprised of at least two separate structures. The single-story section on the west end was an early day general merchandise store which may date back farther than the year 1857 stated on the plaque out front. It was apparently built by two men named Hardy & Kennedy sometime during the 1850's. Over the years it has been known by their names, as well as Garrison's General Store, and Langstaff's Store.


The large, two-story portion of the building was probably built during the late 1850's. The Odd Fellows of Foresthill's Minerva Lodge have met in this structure since 1861, having moved to Foresthill from the town of Bath that same year. The building also housed the Wells Fargo office for a time. The entire structure stands on the corner of Soap and Foresthill Road and is easy to spot.