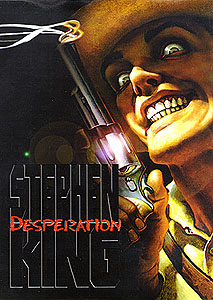 Jacket Art by Don Maitz

DESPERATION
---
by Stephen King

"Buzzards!" the cop said. "Gosh, aren't they something?"
---
Desperation, the spiritual state of unbelief.



Desperation, a state of hopelessness leading to unregulated behavior.



Desperation, a small mining town in Nevada, just off Highway 50, the lonliest highway in the U.S.



Something is wrong in Desperation, very wrong. Something is loose in Desperation, very loose. Something ancient, something evil, something unformed. Tak!



And when the local cop turns anything but lawman, his victims become the lucky ones, because sometimes dead is better. But for a small group of survivors, desperation is no longer just the name of this small mining town, it's also a state of mind. And their salvation rests on the shoulders of an extraordinary young boy.

Cast of Characters:


Peter Jackson - Mary's husband.


Mary Jackson - Peter's wife.


Tak - Ancient evil.


Ralph Carver - Father of David.


Ellen Carver - Mother of David.


David Carver - Good kid.


Kirsten Carver - Little girl.


John Edward Marinville - Sort of a jerk. Dies well.


Steve Ames - Van driver.


Cynthia Smith - Hitchhiker.


Brian Ross - David's friend back home.


Collie Entragian - Mad cop.


Cary Ripton - Pit foreman.


Brad Josephson - Deep Mining Corporation secretary.


Allen Symes - Mining engineer.


Tom Billingsley - Retired vet.
Publication States:


Trade HC: Viking (1996)


Unrevised Proof: Viking (1996)


Limited HC: Donald M. Grant (1996)


Gift HC: Donald M. Grant (1996) Desperation