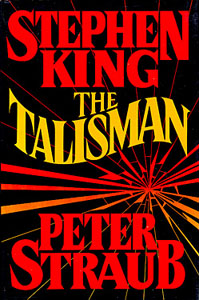 Jacket Design - Neil Stuart

THE TALISMAN

---
zby Stephen King
and Peter Straub

"Right here and now!"

....Wolf
---
In order to save his dying mother (and quite possibly the entire world), twelve-year-old Jack Sawyer must find the Talisman, a crystal globe perhaps three feet in circumference, which also happens to be the axis of all possible worlds.



Unfortunately, the Talisman is located a continent away and Jack's got to hurry.



Luckily, Jack can "flip" between our world and the world of the Territories, a world that mirrors our own. And distance traveled in the Territories is equal to a greater distance in our world.



Unfortunately, evil men, nasty creatures, and the Blasted Lands lay between Jack and the Talisman.
Dedication:

This book is for Ruth King, Elvena Straub

Firstline:

On September 15th, 1981, a boy named Jack Sawyer stood where the water and land come together, hands in the pockets of his jeans, looking out at the steady Atlantic.

Cast of Characters:

Queen Laura DeLoessian - Queen of the Territories.
Elroy - A nasty pedophilic shape-changer with hooves.
Farren - The captain of the outer guards.
Reverend Sunlight Gardener - Twinner of Osmond.
Morgan Thudfoot - Morgan Sloat's Twinner.
Speedy Parker - Jack's friend who taught him how to "flip."
Jack Sawyer - Twelve-year-old Travelin' Jack.
Lily Cavanaugh Sawyer - Queen of the B's.
Morgan Sloat - An evil manipulator, Twinner of Morgan of Orris.
Wolf - Jack's werewolf friend.

Publication States:

Trade HC: Viking/Putnam's Sons (1984) - True First Edition
First Info: On CP "First published in 1984 by Viking Penguin Inc."
Limited HC: Donald M. Grant
Artists presentation state, lettered, 70 copies
Artists presentation state, numbered, 70 copies
Deluxe edition, 1200 copies
Trade edition, 1200 copies
Trade PB: Berkley (1985)