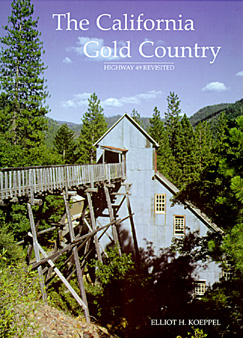 THE CALIFORNIA GOLD COUNTRY:
Highway 49 Revisited
Greetings to those of you who have reached this ethereal venture of mine into capitalism, and thank you for expressing an interest in purchasing a copy of my California Gold Rush book. Here are the facts:
The California Gold Country: Highway 49 Revisited is now available for shipping. Approximately 240 pages long, oversized format, the book is available in either a softcover or hardcover version.
The book includes some 200 or so up-to-date color photos of various historic building and sites which are still in existence today, waiting to be visited.
Also included are approximately 100 old time black and white photos taken during the 1800's, courtesy of the fine museums and historical societies located throughout the Mother Lode.
A lot of information concerning the pioneers, what particular structures or sites were used for, who discovered what mines, early population statistics, who found the gold and founded the towns. Information I've been collecting for the last 10 years and which has been reviewed by local experts for accuracy.
The softcover edition is priced at $19.95
The hardcover edition is priced at $34.95
Shipping and Handling runs $ 4.00
California residents please add 7 3/4% sales tax to all orders.
So, if you're interested in ordering a copy, please email 1849@malakoff.com and I will reserve a copy for you and let you know your exact total. Or, just drop me a note, along with your shipping address and a check made out to:

Malakoff & Co.
POBox 755
La Habra, Ca 90633-0755

School Librarians and Teachers:If this book is something you think your school library or class should carry, a special school discount of $5 off the retail price is available. Please email for further information.

Thanks for everyone's support,

Elliot H. Koeppel


Gold Country


Malakoff Home