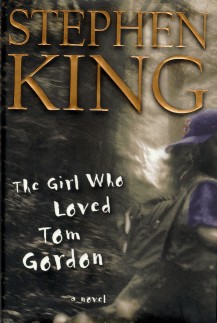 Jacket Illustration by Shasti O'Leary

THE GIRL WHO LOVED TOM GORDON

---
by Stephen King

"On the path you were safe."
---
Trish McFarland should have stayed on the path. But if she had, she'd have never seen the furry woodland creatures, nor dined on fine forest food, or met the Subaudible, the Wasp Priest, or the thing in the woods. Or learned that it's God's nature to come on in the bottom of the ninth.
Dedication:

This is for my son Owen, who ended up teaching me a lot more about the game of baseball than I ever taught him.

Firstline

The world had teeth and it could bite you with them anytime it wanted.

Characters:

Trisha McFarland - Path leaver.
Pete McFarland - Compuworld.
Quilla Andersen - Knows how to pee in the woods.
Larry McFarland - Red Sox fan.
Pepsi Robichaud - Best friend to Trisha.

Publication States:

Trade HC: Scribner (1999)
First Info: On CP, "1 3 5 7 9 10 8 6 4 2"